Item request has been placed!
×
Item request cannot be made.
×

Processing Request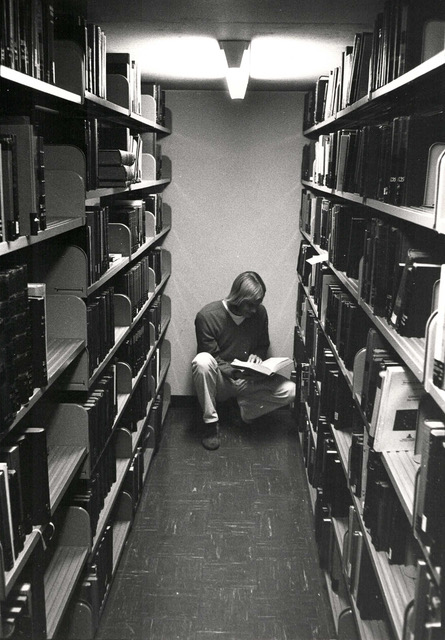 The library at Regent College began with a series of gifts. When the fledgling College began to offer full-time theological programs in 1970, its first faculty members donated books from their personal libraries in order to assemble a library for their students. Marks of these gifts can still be found in the stacks: the stamp "Property of Ward Gasque" and the neat signature "J. I. Packer" appear on the inside cover of a remarkable number of books.
In 1979, Regent College and Carey Hall (which would become Carey Theological College) agreed as a joint venture to raise funds to expand the library to approximately 25,000 volumes. A formal agreement between Regent and Carey was signed in 1983, and the Regent Carey Library was created. This fruitful partnership led to the establishment of one of the largest and busiest theological libraries in Canada, a vital support to research and teaching at both Carey and Regent. In 2017, when that long-time library partnership drew to a close, Carey generously gifted their portion of the print collection to Regent.
Our earliest Library Directors, Dr. Guenther Strothotte (1981–92) and Dr. Ivan Gaetz (1993–2001), recognized the benefits of sharing resources with local universities and theological schools. They successfully established reciprocal borrowing agreements with the University of British Columbia, Vancouver School of Theology, St. Mark's College, and Trinity Western University. These agreements continue to dramatically extend access to library resources for Regent students and faculty. More recently, the library expanded student and faculty borrowing privileges to an additional 105 theological libraries across Canada and the United States through its participation in the Atla Reciprocal Borrowing Program.
Under the management of Cindy Derrenbacker, Regent College built a new, state-of-the-art library beneath the park on the north end of the College. Its thoughtful design makes the most of its underground location, with ample natural light washing in through strategically placed windows and skylights. The new library opened in January 2007 and was renamed the John Richard Allison Library in celebration of one of its principal donors. Regent students, friends, and faculty, as well as the wider academic community, find in the library a beautiful, spacious place conducive to research, study, and group discussion.
Dr. Cindy Aalders, our current Library Director, has overseen the implementation of a new library catalogue and enhanced the library's online presence through the establishment of a new library website. She continues to strengthen the library's collection, particularly building on its special strengths in Puritan spirituality, and strives to establish the library as an important research centre for Puritan Studies. Dr. Aalders's passion for historical research serves her well in her work as Associate Professor of the History of Christianity at Regent College, where she currently researches and teaches on the spiritual lives of women and children in the eighteenth century.