Item request has been placed!
×
Item request cannot be made.
×

Processing Request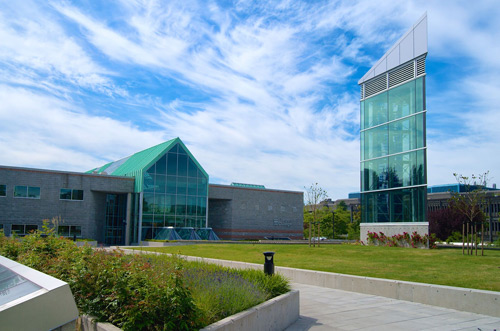 The John Richard Allison Library at Regent College is one of the major theological libraries in Canada.
Located on the lower level of Regent College, the library is a state-of-the art facility that houses a number of significant collections and rare books.
The space offers ample natural light, comfortable seating, and computer resources. Although the library is built underground, you would never know it! Natural light streams into the space through a series of skylights placed strategically above study carrels, seminar rooms, and offices. Architect Clive Grout worked with library staff and other planners to design a space that is bright and conducive to research and study. The current library was built between 2005 and 2007, and officially opened its doors on September 29, 2007.
The central element is a 40-foot-high glass wind tower, which is designed to minimize the use of electricity for heating and cooling the space. The tower features the first installation of photovoltaic art glass in North America, Lux Nova, by artist Sarah Hall. Other art installations include two large murals—the commissioned work of calligrapher Timothy Botts—and David Robinson's sculpture Font. The library also hosts regular art exhibitions.
A seminar room, a bibliographical instruction classroom, and three group study rooms accommodate scheduled classes and group work sessions. Rare books are properly cared for in a controlled environment.