Allison Library Collection
Item request has been placed!
×
Item request cannot be made.
×

Processing Request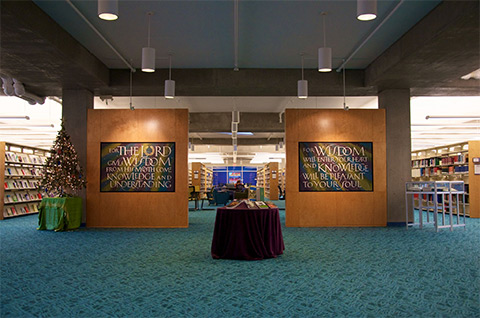 The Allison Library currently houses almost 185,000 items, including over 140,000 print books and microfiche titles, a growing number of ebooks, access to over 3,000 electronic and print journal titles, and a variety of media materials (including CDs, DVDs, and audio cassettes). The collection is augmented by subscriptions to specialized online databases.
A subject analysis of the holdings, based on Library of Congress call numbers, quickly reveals the specialized nature of the Allison Library collection. Six subject areas comprise almost 90% of the collection. They are, in descending order: 
Philosophy and Religion (73.37%)
Language, Linguistics & Literature (5.74%)
History & Auxiliary Sciences (5.64%)
Sociology (2.44%)
Art & Architecture (1.29%)
Business & Economics (1.05%)
The main strengths of the book collection are in biblical studies, pastoral studies, and Protestant intellectual thought. Resources on the history of Christianity, biblical languages, Christian culture, and the arts are also well represented.